Our Services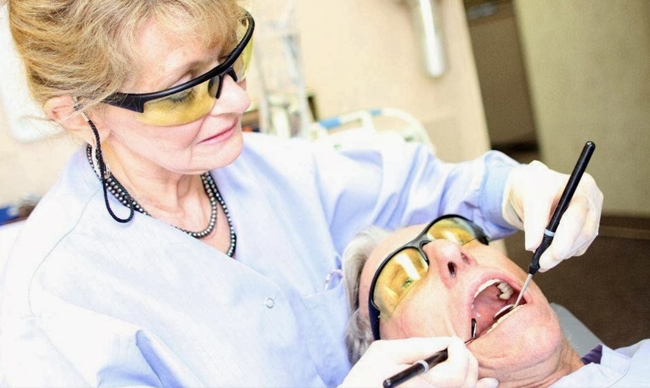 Dr. Anne Magner is performing a routine examination.
From a routine exam and cleaning to full-mouth rehabilitation, our practice is equipped to handle all of your dental needs. To help you understand more about our office, we have included brief descriptions of some of our most common services on this page.
Initial Oral Examination
Your first visit at our office is very important in establishing your oral health baseline. We will perform a complete oral examination which includes an oral cancer screening, periodontal evaluation, an analysis of your occlusion (bite) and a thorough examination of your teeth, their supporting structures and of the oral anatomy.
Cosmetic
Crowns & Caps
The terms dental crowns and caps are synonymous. Crowns are typically used to restore a tooth's function and appearance following a restorative procedure such as a root canal. When decay in a tooth has become so advanced that large portions of the tooth must be removed, crowns are often used to restore the tooth. Crowns are also used to attach bridges, cover implants, or to prevent a cracked tooth from becoming worse. Crowns also serve an aesthetic use, and are applied when a discolored or stained tooth needs to be restored to its natural appearance. Crowns are fabricated in a laboratory and are made either of porcelain baked onto a metal substrate, all-porcelain, or many of the new ceramic materials that have been developed.
Bridges & Dentures
A bridge may be used to replace missing teeth, help maintain the shape of your face, and alleviate stress on your bite. A bridge replaces missing teeth with artificial teeth, looks great, and literally bridges the gap where one or more teeth may have been. Your bridge can be made from gold, alloys, porcelain, or a combination of these materials and is bonded onto surrounding teeth for support. There are two basic types of bridges. A fixed bridge which remains in your mouth at all times and is supported by your natural teeth. Removable bridges (partials and full dentures) are removed from the mouth several times a day for cleaning and rest on the gum where the missing teeth are being replaced.
Veneers
Gaps, chips, stains, or misshapen teeth can now be treated with wonderful results and very conservatively using porcelain veneers. Veneers are natural in appearance, and are a perfect alternative for patients wanting to make minor adjustments to the look and feel of their smile. Veneers are thin, custom-made shells made from tooth-colored materials (such as porcelain) designed to cover the front side of your teeth.
Teeth Whitening
Our in-office state-of-the-art bleaching system will make your teeth whiter and brighter. You may also use our take home bleaching system to achieve a brighter and whiter smile in a matter of days.
Invisalign
Invisalign ® is a form of orthodontic treatment that works to correct many different types of malocclusions through the use of a series of clear plastic trays called aligners. Invisalign® was developed to eliminate the use of unsightly metal brackets and wires and allow orthodontic treatment to occur almost "invisibly".
Related Cosmetic Dentistry Articles
Cosmetic Dentistry – A Time For Change
Join us as we review the myriad of possibilities available to you for cosmetic dental change. But the biggest part is not just how your smile looks, it's how you feel when you show it... Read Article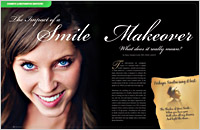 The Impact of a Smile Makeover
Americans are catching on to the emotional and social importance of a healthy, beautiful smile, and they're seeking out ways to improve their smiles. Learn why and what a change could mean for you... Read Article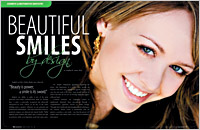 Beautiful Smiles by Design
The first in a series of articles dedicated to the "art and science" of designing a more appealing smile. One of the country's foremost leaders in cosmetic dentistry discusses how you and your dentist partner to create a great new look... Read Article
How And Why Teeth Wear
Are teeth supposed to last for a lifetime? And are humans designed to live for up to a hundred years? Given all the current improvements in the areas of medicine and health, both general and oral, people are not only living longer, but they are also keeping their teeth longer. This article will provide an overview of the "oral system" and one of its more common and important occurrences, tooth wear... Read Article
Dental Implants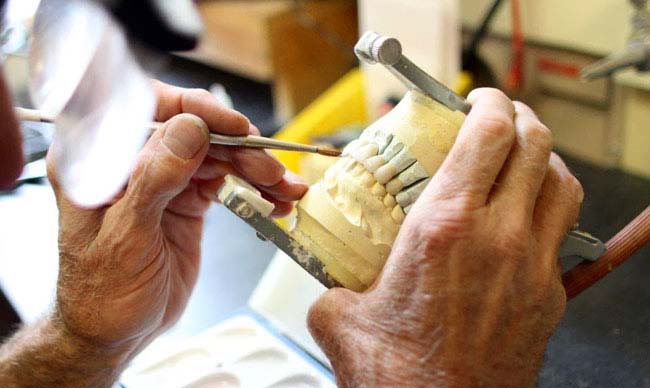 Implant Dentistry
If a tooth is extracted or missing for some other reason, it is now possible to replace it using dental implants. An implant is a new tooth made of metal and porcelain that looks just like your natural tooth. It's composed of two main parts: One part is the titanium implant body that takes the place of the missing root, and the second part is the tooth-colored crown that is cemented on top of the implant. In addition to tooth replacement, implants may be used to anchor dentures, especially lower dentures that tend to shift when you talk or chew. For patients with removable partial dentures, implants can replace missing teeth so that you have a more natural-looking smile.
TEETH-IN-A-DAY™
The "Teeth in a Day" solution is attractive to patients wanting to get rid of their dentures or need to have their severely failing teeth replaced by a new full arch of teeth. This procedure "Teeth in a Day", as the name implies, requires less than a days worth of work to fully customize a set of replacement teeth. The entire treatment is completed within a few hours and can be done while the patient is comfortably asleep using sedation dentistry. The best part is that the procedure is painless and patients receive their full set of replacement teeth the same day.
Traditional approaches to restoring a full arch of teeth may require as many as 18 months of treatment. That means that a patient often would be without teeth or with ill-fitting temporary dentures for more than a year. With the Teeth in a Day solution, the patient has one or two visits to our office to gather information for a treatment plan. Following this consultation, the patient is scheduled for implant placement and the new teeth are fitted and adjusted within 24 hours (even when extractions are necessary).
The patient will return for occasional check-ups over the next several weeks and months. After almost six months, when the gums have fully healed and the implants are fused to the natural bone, we will take new impressions of the patient's mouth and prepare a final, stronger, permanent set of teeth adjusted to a perfect fit. This helps ensure the longest life of the teeth, and provide maximum support, beauty, and function to the patient.
Related Dental Implant Articles
Dental Implants – Your Third Set of Teeth
A discovery fifty years ago paved the way for one of dentistry's most exciting, natural looking and successful tooth replacement systems. Learn how dental implants might just possibly change your life... Read Article
The Hidden Consequences of Losing Teeth
For those missing even one tooth, an unsightly gap is actually the least significant problem. What's of far greater concern is the bone loss that inevitably follows tooth loss. Dental implants fused to the jawbone can preserve bone, improve function and enhance psychological well-being. Learn how implants serve both as anchors to support replacement teeth, and preserve bone as one of the better preventive maintenance procedures in dentistry... Read Article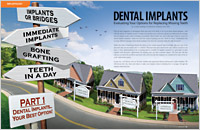 Dental Implants - Evaluating Your Options for Replacing Missing Teeth
As we guide you through the marketing hype you'll see that well planned implants most often require a team approach in assessing whether they're right for you. Not only are they a better treatment choice, they will last longer, possibly a lifetime, making them the right choice and the most cost effective option long term... Read Article
Implant Overdentures for the Lower Jaw
Implant overdentures represent a major change for the dental profession and the public. The lower jaw two-implant overdenture may be considered a more appropriate starting point over regular dentures... Read Article